By Karen House, M.S., MT-BC
As we turn our calendars to December and reflect on our year, I can't help but smile at how amazing 2015 has been for the Palm Beach Music Therapy Institute. We've had exciting additions to our staff, memorable moments in sessions that we will carry with us throughout our careers, and participated in fantastic community events that helped us network and give back to our area. One of our most recent changes to PBMTI is the staff addition of Joseph Kim, a music therapist based out of Broward County who we are so excited to work with. To show just how excited we are, we want to formally introduce you to Joseph with a very serious, very informative interview.
(PBMTI) Hi Joseph! Welcome to our team! Please tell us a little about your new role at PBMTI.
(Joe) Hi!! I am PBMTI's newest addition as a Business Developer! I am also a board certified music therapist and certified in hospice & palliative care music therapy. I'm so excited to be here!
What do you hope to bring to PBMTI as a Business Developer?
On the surface, business development is easy- it's marketing. It's selling a product to grow a company. But to me, it's more than that. It's about advocating for a product that you believe in. When I walk into a facility, my focus is not on how many hours I can sell. My focus is on the residents and staff who are missing out on the joys and benefits of music therapy!
The role of business development, and I can only speak on my own behalf, is to identify where those needs are and to ensure quality services to our clients. A friend of mine once told me, "As long as you're focusing on your [patients'] needs, you can't go wrong." And it's true! We're not in this business to become millionaires. We're in it to bring healing and quality of life to the millions who need it.
You've only been a part of our team for a short while, but have you had any success adding programs?
As of right now, I have yet to secure any new programs, but the future is looking bright for PBMTI.
If anyone can spread the good music therapy word, you can Joe! 🙂
Do you find that most facilities already know about music therapy, or are you doing a lot of educating?
There's definitely a lot of education that goes on. Even if a facility has a music therapist that visits a patient on a case-by-case basis, most of the staff don't really understand its purpose. Too often, people see music therapy as "entertainment" or a performance. So yes, I often do find myself educating on the benefits of music therapy and how it differs from entertainment.
Transitioning from your former full-time music therapist position to this role must be quite a change. What are some of your favorite things about your position now?
Actually, being a business developer is really not that different from being a music therapist. If you think about it, the process is almost exactly the same: build rapport, assess the situation, create a plan, and achieve outcomes. The only difference is really the outcome and the means to get there!
As a business developer, I'm not using my guitar to communicate, but I'm still using my skills as a therapist to connect with administrators and directors so as to "treat" the person and find what their needs are.
Now, I can't reveal all my tricks! But I'll tell you that some of my favorite things about being a business developer (and particularly a business developer for PBMTI) have a lot to do with the fact that I also get to be a music therapist at the same time! I have the pleasure of not only selling a product I believe in, but also representing a staff that I whole heartedly respect. I get to work with some of the most talented music therapists I know, and it's always nice to talk up a service with the confidence of knowing that each and every one will deliver. It really is an honor!
Now for the important stuff: What's your go-to song that gets you pumped up to start networking/marketing like a boss?
Haha! There might be one too many. But for this particular job, I'd have to say: "Survivor" by Destiny's Child. Haha can't you just see me dancing to it in the car? Before a professional business meeting? Yup. I'm that guy.
I can see you dancing up escalator to your meeting, and possibly right before walking in the door!
What song do you secretly wish your clients won't request?
Bushel and a Peck.
What is your favorite percussive instrument?
The slit drum! Not only do they sound and look beautiful, but they may be the most relaxing to hear and play (in my opinion).
Favorite GIF?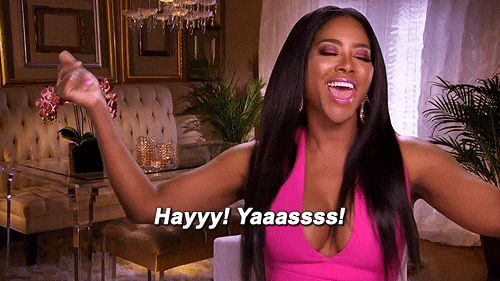 Best thing about living and working in South Florida?
The diversity of the clientele. And you can't beat the beaches!!Thank you Joe- welcome again and we can't wait to see what you bring to the PBMTI table!